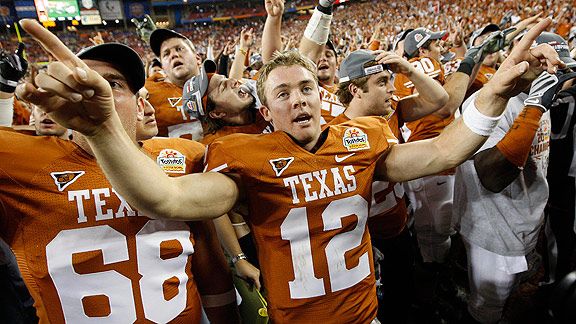 Leon Hallp/US Presswire

With a scant 2:05 showing on the clock the University of Texas Football team's hopes of a Fiesta Bowl victory were seriously in doubt. Ohio State had just driven down the field to take the late fourth quarter lead and had seemingly taken all the wind out of the UT sails.

On walked Colt McCoy, the Texas quarterback. With the glint of a smile and an air of confidence he walked into that huddle cool as a cucumber. Apparently he told the offensive line and his receivers 'let's go win this game.' There was no "let's go try" and that is exactly what they proceeded to do. Faced with both a limited clock and at least one fourth down situation, the Texas quarterback played with confidence and authority slicing and dicing the Ohio State defensive line. He commanded the team with a fire and intensity that legends are made of.

In the end with a mere 16 ticks left on the clock the Longhorns were celebrating in the end zone and fans were going berserk both there at the stadium and across the country where ever the electric glow of a television might be shining through the night sky. The Texas Longhorns had won the game and proven yet again that anything, and I do mean anything, is possible if you have enough guts to take a shot and try for the win.

What if you were to approach your next big appointment or job interview with the same enthusiasm and confidence? What if you were to approach each day of this year like winning, whatever it is you need to win, is not only possible but an infrangible certainty. What might your life, your career, heck your world look like then?

Your two minutes are on the clock and a field of possibilities awaits you. Go take your shot. Go make that drive. Go win your game.

And yes...that will be us cheering for you from the sidelines because like Colt, we know you can do it!

Ripple On!!!