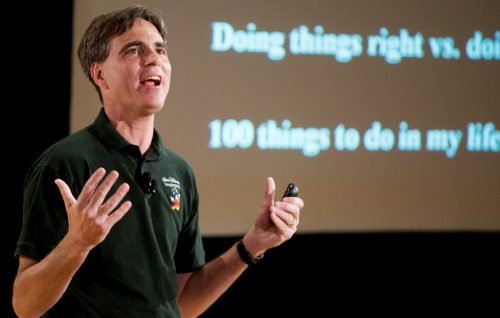 Last year I discovered someone who has become one of my all-time greatest heroes. His name is Professor Randy Pausch. Randy Pausch at the time had become an Internet celebrity for giving an inspirational Last Lecture for the students and faculty of Carnegie Mellon University which had been shown on YouTube.com countless times. This young, vibrant man with so many incredible antedotal lessons on living was actually dying at the time. He had been diagnosed with pancreatic cancer.

I had discovered the Last Lecture from one of those countless email trails that people forward on and on. I rarely open those due to the enormous amount of email I get but for some reason this particular one caught my attention so I watched. I watched it over and over again - riveted by what I was seeing, what I was learning and what I was hearing. I found myself at the time both inspired and scared; I hadn't been living life to its fullest...not even close.

Last October I was sitting in a hotel room waiting to go down to deliver one of the biggest speeches I had ever given up to that point and flipped the channel over to Oprah. As luck would have it Randy Pausch was giving a modified version of his last lecture. I found myself sitting in a hotel room alone, crying my eyes out and wishing that I could trade just a few years of my life for his. This amazing husband and father of three deserves so much more than what life has dealt him. After the show I went down and modified my remarks to an audience of executives to honor the lessons Randy had shared and taught me. I think to date it is still one of the best performances I have given.

I became incredibly inspired by this man who was dying but possessed an insatiable appetite for living. Longing to know more about this man I read everything I could find; his various bios, BLOGS and countless interviews. I found myself logging onto to his website and checking his health updates regularly. For Father's Day my wife and kids gave me his book The Last Lecture - which has to be one of the best gifts I have ever received for Father's Day.

When Kathy emailed on Friday that he had passed I felt as if someone had just taken my knees out from under me. I wanted to go home, crawl into bed and just cry. I didn't want anyone at the office see me as I suspect the wrong word would have easily brought me to tears. I walked around the building a few times and composed myself and tried to go on with my day. It wasn't easy.

I found myself hugging my boys a little tighter this weekend. I found myself looking at my wife and appreciating her a little more for what she does for us all. I found myself thinking of Randy and how hard and difficult it has to be to leave such a loving family. I found myself replaying so many of the lessons Randy shared in his lectures, his writings and his just plain being. I found my sadness was somehow transformed into inspiration and a desire to live.

Thanks Randy...another lesson you taught me.

My friends, we could all be so lucky as to have a hero such as Randy Pausch. A man that truly inspired countless Americans to remember that life is not only fragile but oftentimes is short -though never any less valuable. Live. Have fun. Dream. Inspire.

Go take on your Monday and say a prayer for those three heart-broken kids and a grieving wife. Then say another Prayer for Randy - and tell him you will do a better job of honoring your life and really living it to its fullest.

God's Speed Randy Pausch. God's speed.

Ripple On!!!